Services
Home Purchase Inspections
Your home inspection should take approximately two to four hours depending on the size and age of the home. This is an inspection to report on observable conditions of the structure that is designed to educate you so that you may make an informed decision on the purchase of the property. This inspection is neither a building code nor a technically exhaustive inspection. Read more...
New Construction Inspections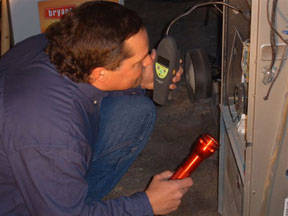 It is said that having a new home built can test your nerves to the limit. Let me help put your mind at ease. Prior to construction, or when construction is just beginning, provide me with a copy of your specifications given to you by the builder. Then, contact me at a pre-determined time and I will do a preliminary inspection while I can see inside the walls, roof and floor systems. Then, after the construction is completed, I will do a final inspection to be sure you are getting what you paid for. This service is also offered for additions and remodeling. Read more...
Pre-Listing Inspections
For the client that is getting ready to put their home on the market, I would strongly recommend that you have me inspect your home before you list it. This can give you, the seller, a list of items that a prospective buyer's home inspector may find and include in their report to the buyer. With this information, the seller may opt to have some or all of the items that may need to be repaired done prior to listing it. By doing so, there may be less negotiating required between buyer and seller as to what to have repaired or what the buyer may want to get a credit for, often at an amount larger than what it would have cost you, the seller, to have it done earlier. It also gives you a chance to find a professional to perform the work needed at a reasonable price rather than being pressured into having a repair done quickly. Read more...
New Construction Warranty Inspections
Most new homes come with a one year warranty on all materials and labor. Before your warranty expires, I will come to your home and perform a complete inspection to assure that all items and components in your home are functioning properly. If I find any problem areas, I will be happy to work with you and your builder to make it right. Read more...
Construction Draw Inspections
Buyers, banks and title companies can use this valuable service to assure that the proper construction draws are being taken at the proper time. This eliminates misunderstandings and paying unnecessary interest charges. This service is available not only on new construction, but on additions and remodeling as well. Read more...
Radon Testing
Radon is a colorless, odorless gas that is produced naturally in the earth. It enters homes through small cracks in basement floors, foundations, and through water, as well as around pipes and other small voids in the house. The Surgeon General has warned that radon is the second leading cause of lung cancer in this country, second only to cigarette smoking. Since every home, even in the same neighborhood, can have greatly different concentrations of radon, the only way to be assured that the level of radon in your home is below dangerous levels is to have a sample of the air tested. Radon testing is strongly advised whether you are buying, selling or just for your piece of mind for living in your own home. Read more...
Mold Investigations
Anytime there is moisture present, there is a risk of mold developing. Mold can develop within 48 hours of water being introduced to materials such as wood, drywall, furniture or carpeting just to name a few. The key is getting the area dried as soon as possible. If mold develops, it can affect every human differently with some being more susceptible to reaction to mold spores than others. Premier Inspection and Consulting LLC uses state of the art technology to search for mold. Thermal Imaging, moisture meters and IAQ air sampling are all methods we use to determine whether there is a likelihood of either mold being present or if conditions are conducive to mold development. Premier Inspection and Consulting LLC is available 7 days a week for assisting you. Read more...
Thermal Imaging
Thermal Imaging uses the principle of mapping surface temperatures to produce an image of a surface. These surface temperatures allow us to look for areas of weak or missing insulation. It also allows us to look at surfaces such as walls and ceilings for moisture. Moisture can usually be detected even if there is no staining yet or if the stain has been covered or hidden by painting. Thermal imaging is NOT x-ray vision. It can not allow us to see inside walls. When properly used however, Thermal Imaging is a very powerful tool in evaluating any type of building. Read more...